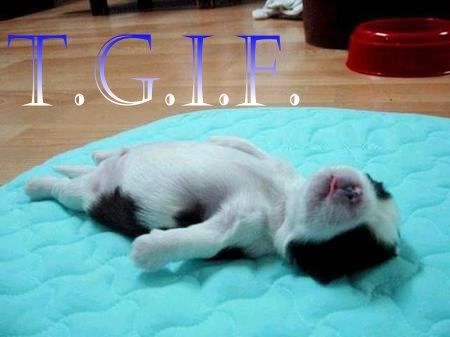 Happy Friday. The weather is crappy here (has been all day) and it's the perfect night for dinner on the couch with alex, chicklet and a movie. Alex's assistant loaned us "Burn After Reading" to watch tonight.
No treadmill, no jog, no exercise today. It was a planned "rest" day, so... I have stuck to that plan!
I was in a boring ass seminar thing all day. I was DYING for chocolate. On the way home I stopped at Shoppers to get my amazon order (Biggest Loser Yoga DVD!)... I thought about getting chocolate but I resisted!! I feared if may start a full on weekend binge.
I AM, however, eating more today but have decided it's okay, I forgot that Biggest Loser thinks we should have a 'high calorie day'.
Alex is on his way to pick me up and go to the food court to grab dinner... so, here's what I've eaten today...
Breakfast - FORGOT to eat it!
Lunch @ the work seminar - veggies (0), chicken and bean soup (2), whole wheat bun... which I tore the top off of to minimize the bun (?3), turkey breast (?2), cheese (1)
Snack at home - motivate bar to ease my chocolate craving (4), fruit bites (1), chipits (4), cornbread muffin (3)
Dinner (planned) - chicken (5), veggies (0)
Total - 25
I will come back to update if that changes... like I said, it's going to be my high calorie day so I'm giving myself permission to eat more... and I think I'll have a beer actually. No more unhealthy food this week though!!!