There's a chill in the air, my errands are done, the dishes are done, the place is sort of clean... I'm relaxing!
Today started out with grocery shopping. I made my meal plans and didn't buy more than I needed... but ended up buying a new container (for oats) and strawberries on special... and HUGE bags of chocolate chips for baking season... the bill ended up being more than I planned on, but at least it wasn't on junk food or something I didn't need.
I made my way to the mall after the grocery store because I had one place I had to go
I had to buy my mom some (it's warm sugar vanilla soap):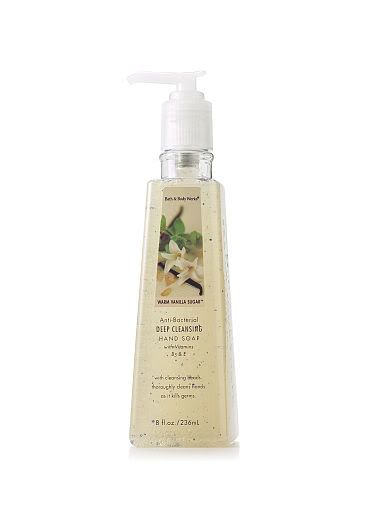 I also needed a fall candle. Luckily for me they were on special! here's my candles (and wall flower refills)...
The dilemma becomes - which candle to burn first?? Well, I've decided to burn BOTH of them. I'll burn one today and a different one another day when the mood strikes me. So, which one did I burn today? The one that matches the oil I already have and could burn today and make my place smelly fall-ilicious! This one:
So, with candles and oil burning and wall flowers to boot... I moved on to eating! Here's what I've had so far today...
Breakfast: strawberries, sliced 2c (1 - who knew it's still only 1pt?), yogurt (1), 1/8c pumpkin granola (1), flax seed and chia seeds (0)
Lunch: tuna wras w/ 2 ww tortillas (2), tuna (1), relish, mustard, onions, celery (0), 30g old cheddar (2), 1c sliced strawberries (1), fist full of chocolate chips (2)
Dinner - planned lentil chili (2) w/ old cheddar (2)
Snack - planned for later, popcorn (3)
Total: 18
Water: 2L so far - 1 more later
Photos from today!!
Strawberries w/ yogurt, pumpkin granola, ground flax seeds & chia seeds (I had originally planned on putting 1/4c. granola on the strawberries, but stopped at 1/8c because it looked like plenty)
Increasing my vitamin C for the season!
Tuna salad w/ 1 tin tuna, 1 tbsp relish, 1 tbsp mustard, green onion, red onion, 1 celery stalk
Half the tuna salad divided on 2 WW tortillas
Add some cheese...
Put it on the foreman grill!
Grill it up!
Melted cheese? YES PLEASE!
More strawberries (bought them on special, gotta eat them up!!!)


It's been a perfect day for lounging...
Comfy clothes
Add a magazing
Watch some Tori & Dean

Also... here's some photos of other food as of late
Pumpkin cinnamon breakfast cookie with raisins (As seen all over the blog world... and I am LOVING it. I love that I can make it the evening before and it's ready to be pulled out of the fridge and eat right away in the morning!)
Jar of oats. Another 'as seen on blogisphere' creation - use the jar to enjoy the end of your almond or peanut butter!
mmm, mmm good!
pineapple chicken dish from Friday!

So... would that be enough photos for you?

This evening's plan is to enjoy a jog after dinner... and remember to stretch out my calves this time! Shins are okay, calves are tired while jogging!

In other news... a friend at work and I have decided to have a little challenge. We have set weight loss goals for ourselves and the person who reaches there goal by December 18th wins a Timmy's gift card from the other person. I'm up for some healthy competition! ALSO, as a United Way fundraiser our office is doing a "United Weigh" weight loss challenge. If it's like the one they had a few years ago... everyone puts in money and the person to lose the most weight wins something (at least, a few years ago the winner won a gift card for dinner!). I think I may enter it.

Alright, time to heat up dinner! I may return later!!!