First, I apologize I have no food photos... when I post my boring food you will see why.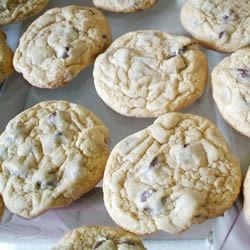 Next... tonight I have the daunting task of baking... baking enough for 80 people. I'm aiming to do chocolate chip cookies AND snickerdoodles... we'll see how much I get done, I would like to sleep tonight. The problem? Tomorrow is weigh in... and I am trying sooooo hard not to eat a cookie fresh out of the oven or eat cookie dough!! The cookies above aren't from tonight... but they are cookies i made a while ago and submitted the photo on allrecipes.com. I'm chomping pretty hard on my gum tonight... trying to resist any temptation!!
Today was hard to get up.. I slept in as LONG as I could, but still did get on the treadmill. I did my BL workout the minute I got home tonight so I could make dinner and start baking right away.
Here's my rather dull, but very limited 'day before weigh in' food:
Breakfast: banana (2), yogurt (1)
Lunch: Tuna (3), lettuce, tomato, cucumber, bean sprouts (0), cheese (2), balsamic dressing (1), apple (1), yogurt (1)
Dinner: 2 eggs (4), 2 egg whites (0), cheese (1), blue menu ketchup (0), wasabi peas (2), yogurt (1)
Total: 19
Water: 4L
Good Luck tomorrow!!!!!! Here's hoping for good results!! (and that I don't give in to any temptations tonight!)