Morning weigh in: down
3.6lbs!
(mind you, yesterday's weight was likely high due to water retention because of my salt intake with all the sushi and soy sauce I ingested Sunday!)
I have survived day two! Up until dinner I was feeling very hungry, but also had a headache and didn't feel like eating. I didn't even eat any of the soup today... I couldn't bear the thought of MORE vegetables. You're allowed a baked potato for dinner and let me tell you - I went for the BIGGEST potato I could find and it was the best one I've ever eaten! My caloric intake is much lower today, but that could be in part because I wasn't feel the greatest and it could be because I'd have to eat vegetables until I was falling over to meet my daily intake. Maybe I'll have some cranberry juice to get my calories up actually... hmm... I must confess - I cheated today by eating 2 measly raspberries. oh well!
Here's what I ate today:
Breakfast - nothing, headache kept me in bed
AM snack - stir fry leftover with celery, shredded carrot, peppers and mushrooms (0)
Lunch - stir fry leftover again (0), avocado and tomato with mrs. dash (4), beets (0), cucumber and tomato with vinegar (0)
Afternoon Snack - tea with 1/2c skim milk (1)
Dinner - big ol' baked potato (5), 2tsp becel margarine (1), broccoli and carrots steamed with spicy mrs. dash (0), tomato with sea salt (0), tea with skim milk (1)
Total points = 12 (eek!)
Stats: protein 26g (about where it should be), fibre 22g (about where it should be), carbs 110g (about 1/3 of where it should be), sodium 619mg (could have eaten 1700mg more!!), cholesteral 5mg (could have eaten about 300mg more!), fat 16g (about half of what I could have eaten).
All in all, where I am really lacking is my calories. fat is notably higher today thanks to the avocado. Protein is a surprise - who knew there was actually so much protein in the milk, broccoli, tomato and potato? There is! The sodium intake is quite a bit lower than yesterday as well thanks to not eating any soup today.
Time for big brother, but I leave you with photos of my veggie day (I thought of you all day, TARA! I know you love the veggies!)
morning snack (veggie stir fry):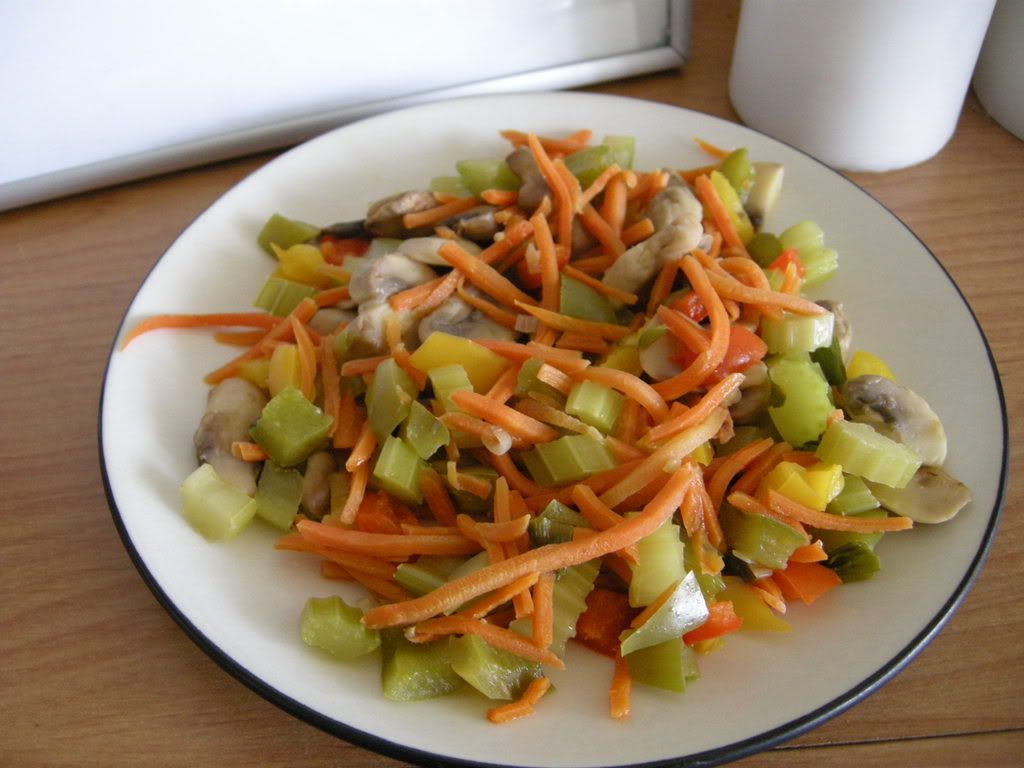 Lunch (tomato and avocado with mrs dash, veggie stir fry, beets, tomato and cucs in vinegar):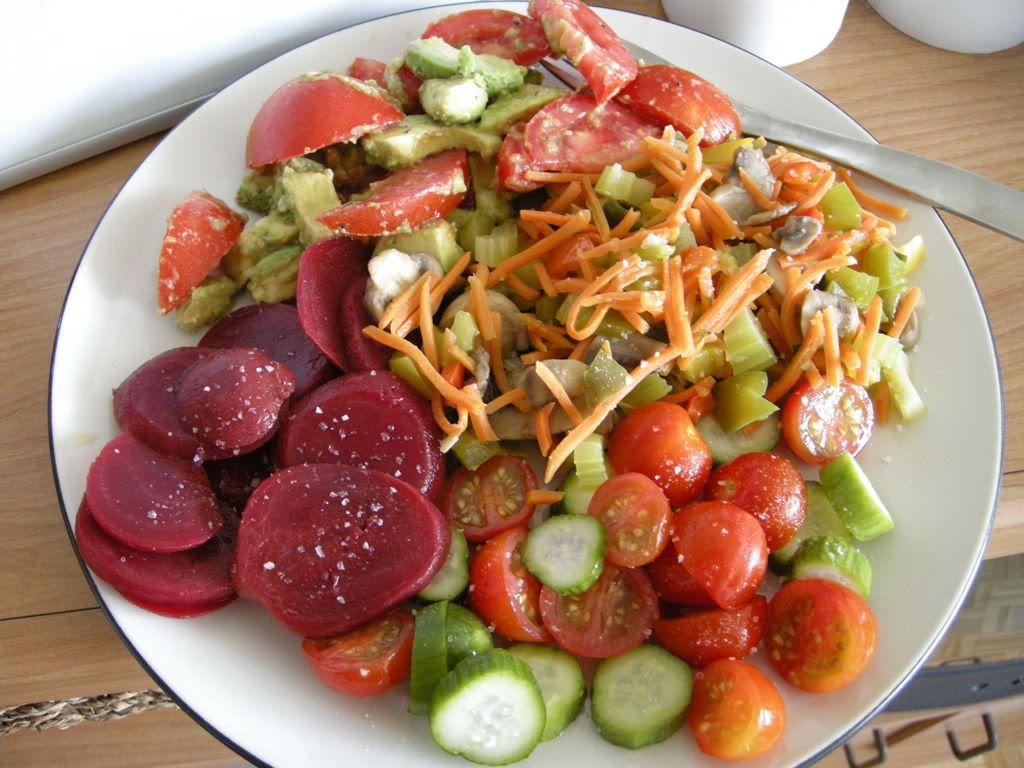 Dinner (tomatoes, broccoli and carrots, YUMMY baked potato with margarine):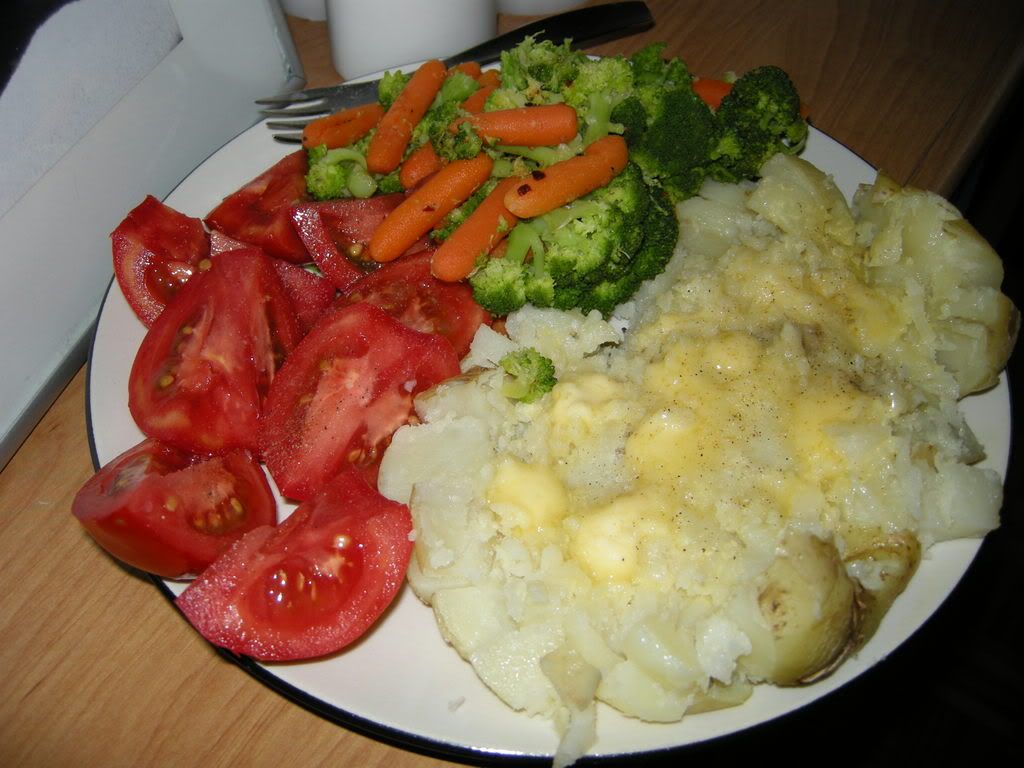 dessert tea with skim milk: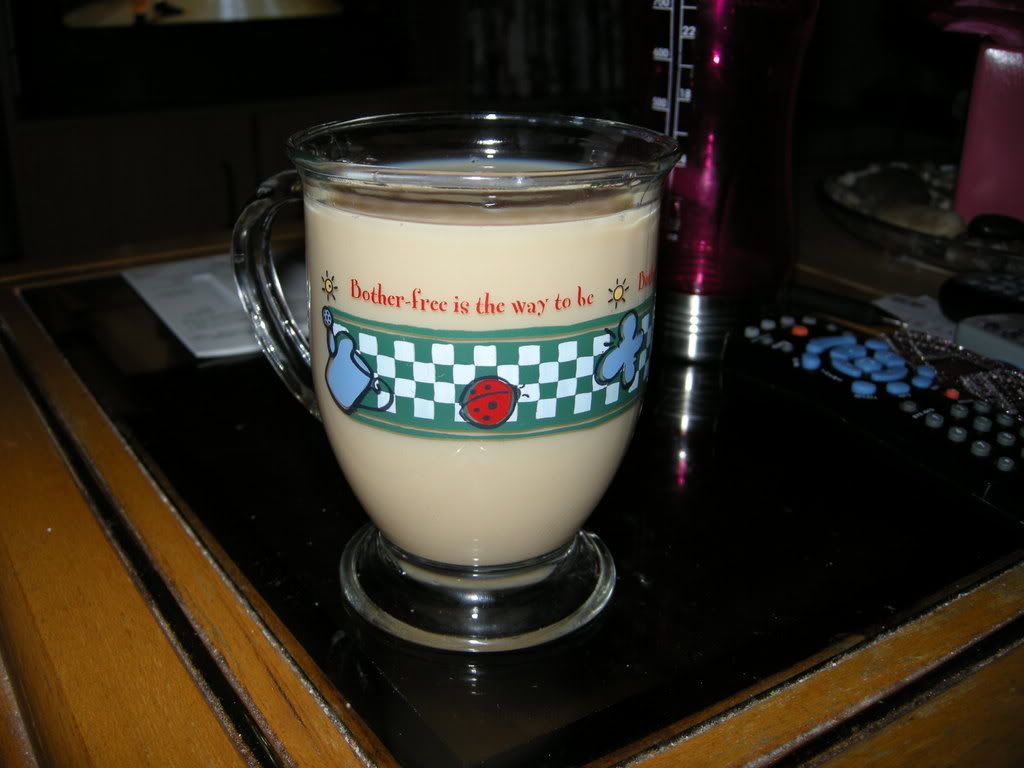 CRYSTAL LIGHT!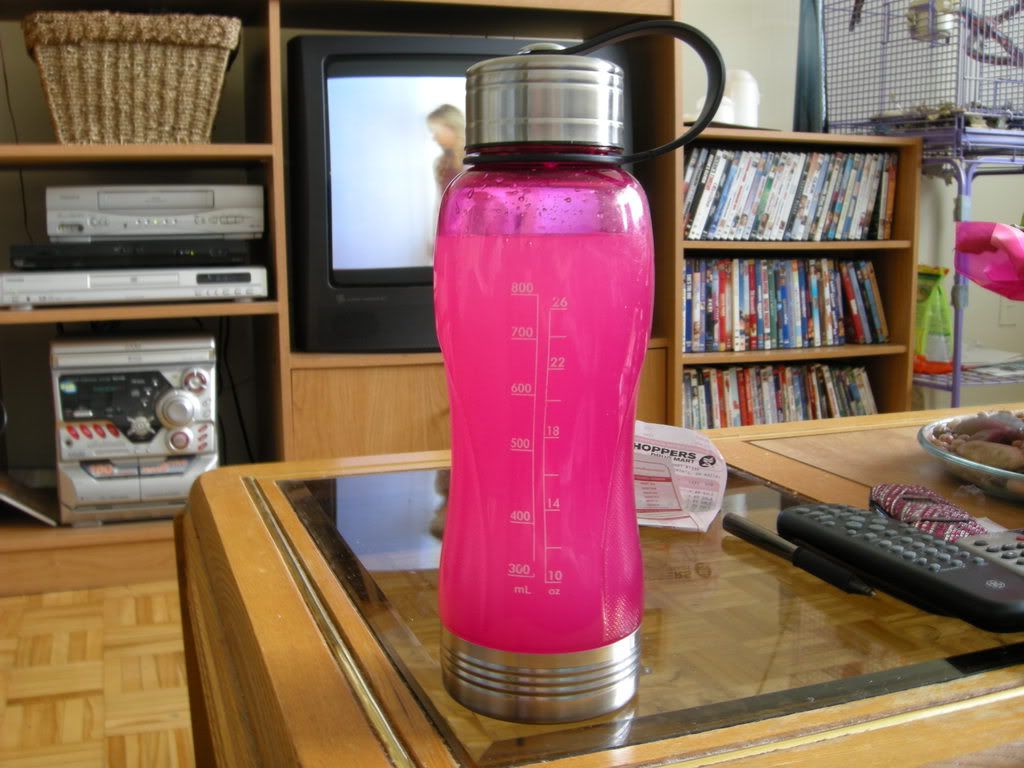 Back to update for Tara! I have actually never made the WW soup! Does it call for cabbage? Maybe that's why I haven't had it... I don't like cabbage. I think you could substitute tofu for the chicken. I had NO IDEA you don't eat bananas though!! What about having them in a shake with skim milk or something? Would you eat them then?