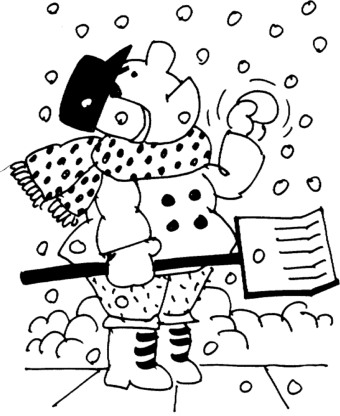 Happy snowy Tuesday! I had a big compliment tonight during my massage... first, the RMT asked me if I'm "a runner". WHAT?? Me? HARDLY! My dad and Tara are runners... I do not even hold a candle to their torch. Apparently while she was massaging my calves/shins she thought maybe I run. Then later on she called me a "tough cookie" because she said there are times she feels really tough spots in my muscles and fully expects me to scream... but I never do, I just breathe through it. Apparently I tolerate pain well. Thank you RMT. Little did this poor lady know she made my night... I thrive on being strong and handling pain exceptionally well (physical pain that is!!!).
So, today I got on the treadmill and got myself to work all in the same day. I didn't get home until later than I had hoped... my RMT felt there were spots that needed extra care in my neck so she massaged me an extra 20min for free!!! I love that lady! When I got home it was right into baking/cleaning/crocheting Simon's blanket... all while watching biggest loser.
Biggest Loser. How could I forget? The big question of the night.... WHO to vote for? Well, unfortunately I don't care. I'm just happy Michelle made it to the finals. I am very excited to see the outcome next week. Could we have 2 female biggest losers in a row? I also love seeing all of the old contestants come back and witness their progress.
Forgot to mention... one of my goals has been to make my lunch in the evenings. I have now done that 2 evenings in a row. Woohoo!!! I must keep this momentum I am building during the holidays. I am working towards my reward my wonderful manfriend has promised me... a weekend away!
Here's what I ate today!
Breakfast:
ww bagel (2), 2 egg whites (0), cheese slice (1)
Lunch:
salad with lettuce, tomato, cucumber (0), turkey pepperette (1), cheese (1), 3 tbsp ff italian (0), yogurt (1), clementines (1)
PM Snack
: dried peaches (0)
Dinner
: Spicy Mango Basa fish (3), cheese string (1), cake batter... oops (2)
Total: 13 (low, but no time for a bigger dinner due to coming home late)
Water: 5L (thirsty today apparently!!)
happy hump day and MERRY CHRISTMAS!!