I don't have much to report today! For the 2nd day in a row I managed to get up and get on the stationary bike for 30min… but today I pushed myself a little harder. It felt great. Tomorrow I will go on the bike in the morning and aim for a 5K walk at lunch.
You can refer to my food diary to see what I ate today… but here are some photos.
Breakfast was quick and simple
No lunch or snack photos. Dinner was cheesy pasta – PC Splendido Farfalle pasta, boneless skinless chicken breast, tomato sauce and cheese. Can't beat it.
I REALLY had a sweet tooth after dinner… enter chocolate cherry banana soft serve.
I used the original banana soft serve recipe and simply added a few frozen (pitted) cherries and cocoa powder. It's divine and cures any sweet cravings I have. A enjoyed it too (so he says at least!)
I currently have some chick peas soaking overnight in Indian spices
We've got curry, turmeric, basil, cayenne pepper (and lots of it), garam masala, sea salt and pepper. I cooked the chick peas with these spices and now I'm letting them soak overnight. I'll let you know how they turn out.
We're currently watching Happy Endings. We love that show… and are currently watching the reruns weekly (as well as watching them on PVR, and having seem them when they first aired). Apparently I remind someone of Penny.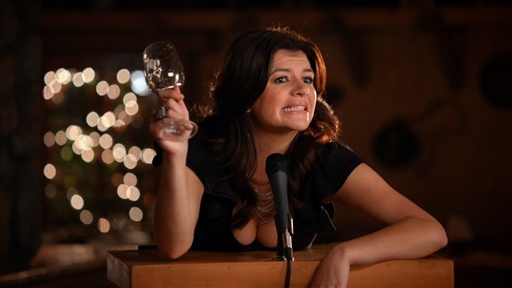 Happy Endings (of this Wednesday) to you